Blue Flash Damsel by Peter Cockwill
by Peter Cockwill
The Blue Flash Damsel seems to be the most commonly used fly nowadays and is a great choice. I like to have three options with me: a size 12 standard shank with the whole dressing no more than an inch long, a size 10 2 x shank tied with its tail about an inch long and then a 'fail me never' option tied on a size 8 standard shank with a tail of at least three inches.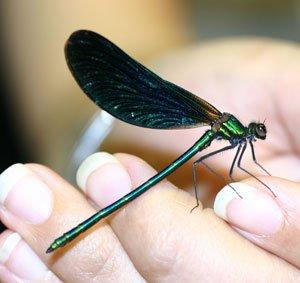 The overall tying remains the same:
Tail - A generous tuft of marabou in medium olive with 4 to 6 strands of deep blue Krystal Flash mixed in to the fibres
Body - Fine olive chenille ribbed with the same Krystal Flash but using 4 strands twisted together to make a strong 'rope'.
Hackle - Olive hen or 'soft' cock palmered up the body with the 'rope' of Krystal Flash tied through it on the opposite spiral.
You can start off with a gold bead, tungsten bead or lead wire as an underbody to give the pattern some weight.