Stevie Munn's Top Tips for Night Fishing
Night fishing will often yield some wonderful sport for the game angler. Trout often feed well at night and Sea Trout and the magnificent Dollaghan Trout from Northern Ireland are normally best fished for in the evening and into darkness in their migratory home rivers as they return to spawn. Here is a quote from the late great angler, Hugh Falkus when describing fly fishing for Sea Trout at night; "Of all fish and fishing this for me is the very top..."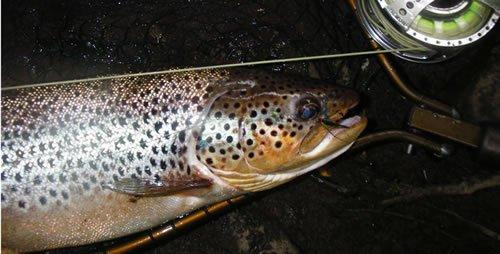 Some people however find evening and night fishing both difficult and hard work as it can take a while to get accustomed to. Although I could probably write a book on night fishing, here are ten practical tips which will hopefully help you if you fish into dark or are thinking about doing so.
Tip 1.
For first timers I'd recommend hiring a qualified guide. Yes, someone like me, and I make no apology for the obvious plug. I learnt to fish growing up on the rivers fishing with my father. If you are on holiday, visiting or just want to learn to maximise your chances of hooking a Dollaghan or Sea Trout a guide who knows the water and the tactics will help. If you're not used to the rivers and have never fished them at night, a guide can help from a safety point of view as well.
Tip 2.
If you don't know your river or water very well try and do a thorough reconnaissance in daylight to get to know where rocks, deep water, undercut banks or any hazards are and you may spot some fish in the pools you can for try later. Even if you think you know the water this is a really useful tip if fishing on your own or not using a guide.
Tip 3.
Remember the fish don't like cloudless nights. Not only does this make the fishing difficult (perhaps due to the shadows) but also clear skies often give cold nights and river mists which can also make the fishing very tricky. Some say you catch on clear, moonlit nights and I have done, but I have always done a lot better on good cloudy nights on rivers and have had most of my blanks on a bright clear night.
Tip 4.
Often when fishing for Sea Trout or Dollaghan, I will fish with an intermediate, sink tip or slow sinking line - most good Dollaghan anglers like to get down to the fish. While doing this I would normally shorten my leader no longer than 9' - a lot shorter sometimes but longer if using a floater, in very low water conditions.
Tip 5.
Light Pollution. I normally wear a head torch that I occasionally use to tie on my flies or check the points on my flies. It is also used to find my way around the bank, especially if it is overgrown. I also use it to get in and out of hazardous wading spots particularly if it means climbing up very steep riverbanks. Nevertheless, if I'm in the water or near it, I seldom use the light so not to spook fish and secondly out of politeness to other anglers, do not shine on the water if it can be helped.
Tip 6.
Politeness to other anglers. I often see bad etiquette on the waterside. Please spare some thought for the other anglers while fishing. Don't shine your light on the river and always wait to see if there is anyone fishing the pool first before proceeding. Do not intrude on or interfere with other anglers - I would always move to another pool but if it can't be helped, wait a polite length of time at the head of the pool and then, if necessary, request permission to fish through if they are not moving down the pool. Do this in a friendly manner. Remember you don't own the river even if it is your local water - everyone should get a chance to enjoy our great sport and help to promote it.
Tip 7.
Fly choice needs some thought. It's important to concentrate on fly size and maybe weight. I would recommend your box to have a good selection of flies tied in a variety of sizes from 8-14 in singles and if allowed on the water also doubles. Classic patterns such as the Teal Blue and Silver, Medicine, Stoats Tail, Bloody Butcher and Dunkeld, should be fished with confidence. In Northern Ireland we often fish Irish shrimp flies and hair wing Salmon flies and there are a few great local patterns that I use a lot. If you're lucky enough to get your hands on them. I dress these flies for clients sometimes if contacted and have the time.
Tip 8.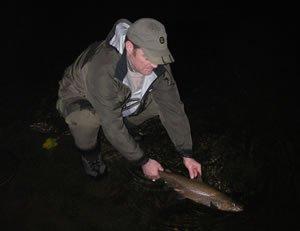 If you hook into a tree or bush in the dark always turn your back before applying force to pull it off. Normally at night you would use a very heavy breaking strain tippet as we fish deep most of the time. This is because the angler doesn't want to lose flies and will be snagging at times, on the rocks trying to find the right depth. This may sound like common sense but many anglers have received very painful injuries by not following this simple rule as well as broken their fly rods by pulling and hauling.
Tip 9.
Be as silent as possible and walk softly. Fish are very sensitive to noise and vibration as they are to visual warnings. Walk lightly on the river banks and try to always wade slowly and quietly. Wading very slowly and feeling with your feet is extremely important - it's not nice getting a ducking in the dark!
Tip 10.
Do give some thought to the practice of catch and release, predominantly with regard to larger fish (i.e. multiple spawners). It's imperative that the stocks be maintained for future generations - a quick picture and careful release.
Lastly, fishing is a pleasure - enjoy it and stay safe!
---
Hardy ProTeam member and Game Angling Consultant, Stevie Munn works full time as a fishing guide, writer and qualified game angling instructor in fly casting and fly tying. He has also appeared in many angling books, magazines and DVD's and given casting demonstrations at angling events all over the world. Stevie has fished many places and grew up fishing on the rivers and loughs of Ireland where he often guides. Stevie runs teaching courses in Ireland and hosts groups to fish in BC Canada, Norway, Argentina and other parts of the world.