European Championships
By John Horsey
The 2015 FIPS Mouche European Fly Fishing Championships were held a few short weeks ago in the Trentino region of Italy and centred around the town of Ponte Arche.
The TEFF Team England consisted of Howard Croston, Mike Dixon, Lewis Hendry, Tony Baldwin and myself, with Ben Bangham as reserve. There were to be 4 river sessions on the Sarca River and one bank lake session on a commercial trout fishery called Lago di Nembia.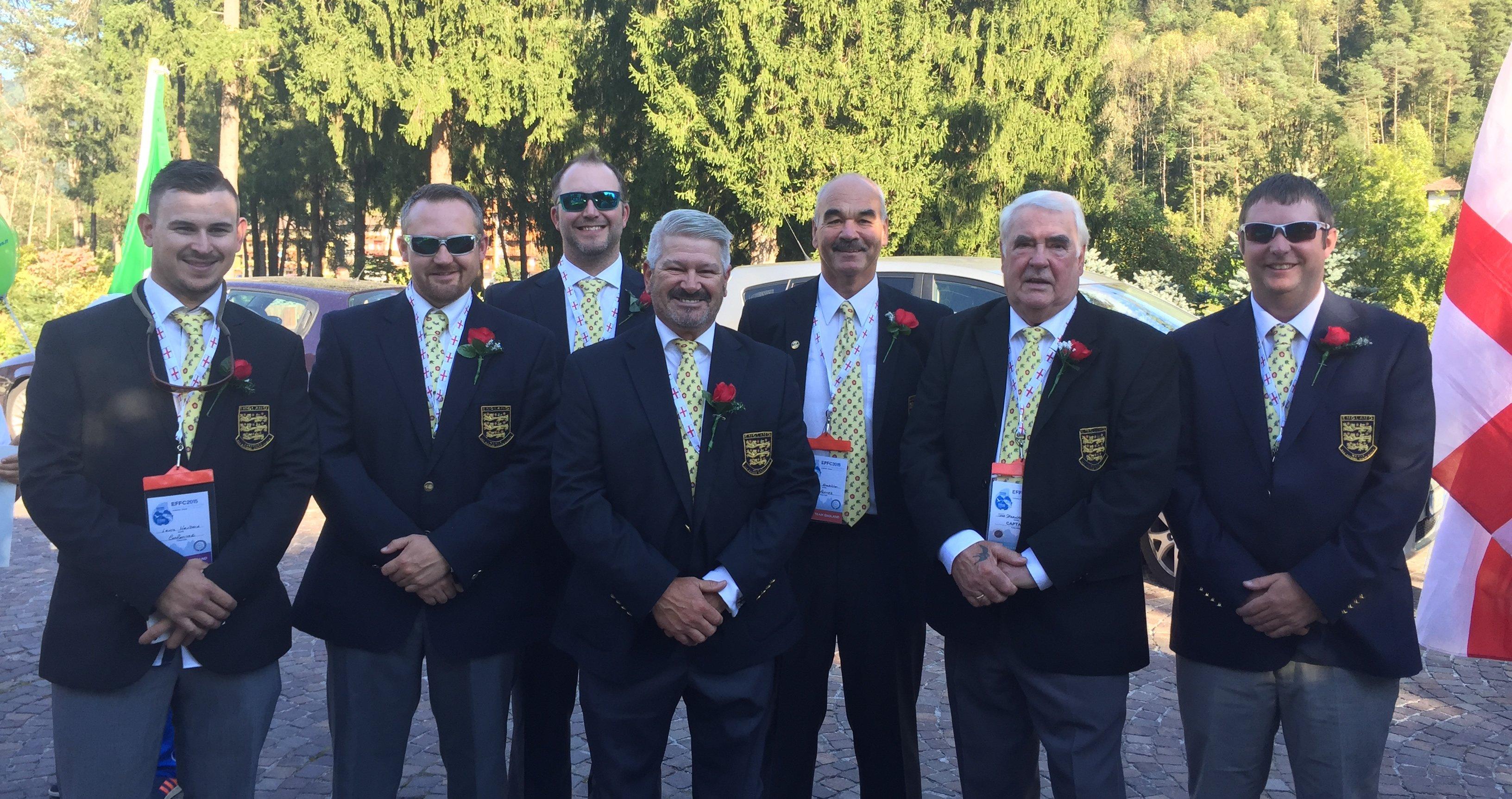 We travelled out over a week in advance to practice on the river under the expert guidance of our Guide Edy Dona, but any lake practice was forbidden on the match lake so we had to make do with a small lake high up in the Dolomite Mountains – believe me the weather up there was freezing! It also bore no relevance to the lake we would be fishing during the competition.
We practiced in blazing hot sunshine under a blue sky; mainly on practice sectors of the Sarca River. There was a lot of snow melt which turned the river a grey blue colour, but nothing was to prepare us for the opening day of the Championships.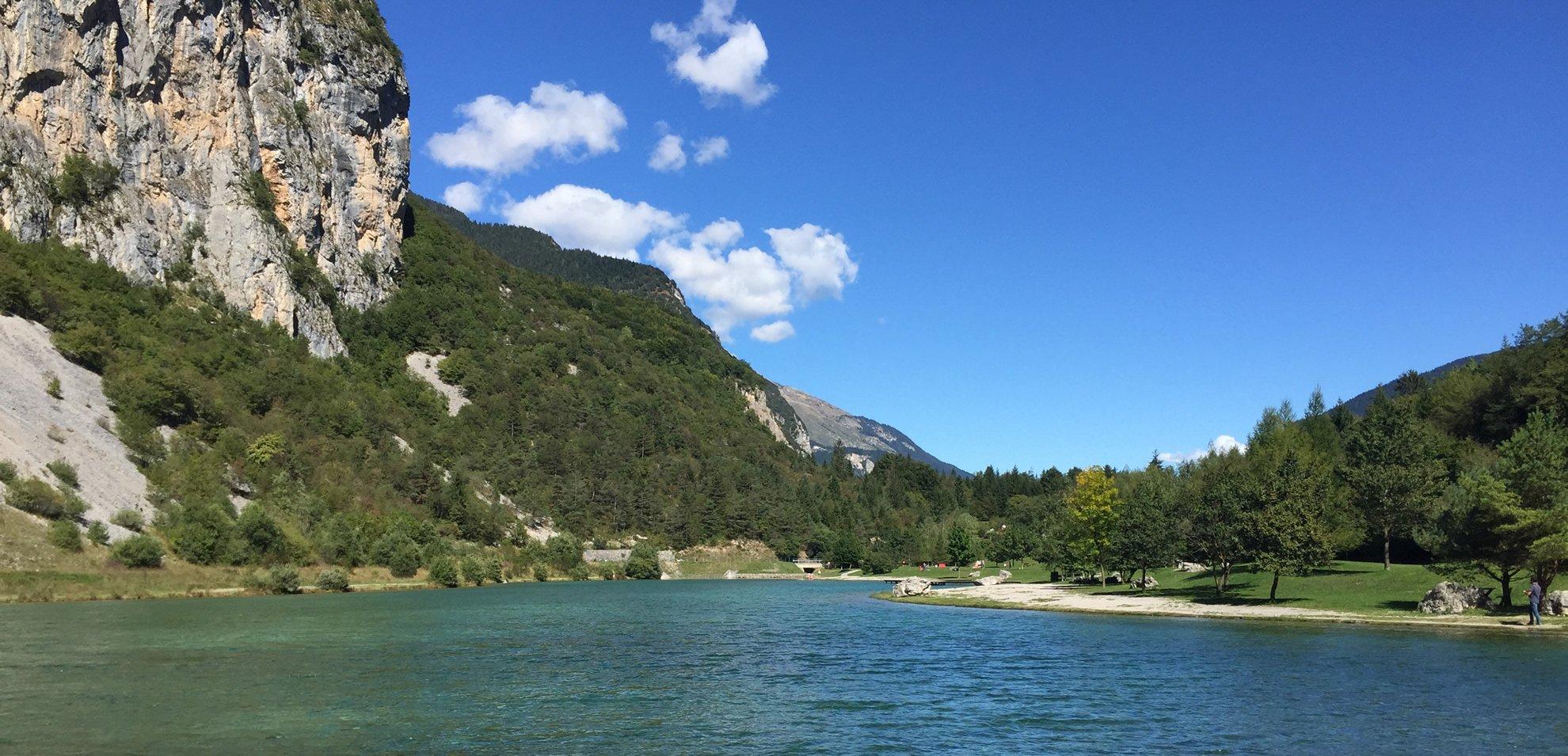 All through the night, rain fell throughout the mountainous region and when we boarded the buses on Day 1, the forecast was for heavy rain all day! The draw was to be all important once again, as some beats were shallow and full of fish, while other beats were strewn with boulders and flowing downhill on a steep gradient. Add to this about a foot of dirty flood water and the draw became even more critical.
I can only recall my own personal view of the event, so here goes. Day 1 Session 1, Sarca River – could not find my beat and my controller did not know the area. Tackled up 3 rods and had zero time to look at my beat. Not a good start. River soon began to flood and the only way I could catch fish in the fast flowing water was to nymph downstream at the tail of any pools I could find. Managed 9 fish and came 7th.
Howard Croston had caught 49 from his beat way downstream in Ponte Arche, so I was relishing fishing that sector in the afternoon. I drew the last Beat and had a river flowing in 2 pegs above me. It was raging in with chocolate brown flood water and by the time it reached my Beat the entire river, side to side, was now filthy. I caught just 6 fish and felt fortunate to have caught those! A lowly 10th place was the result.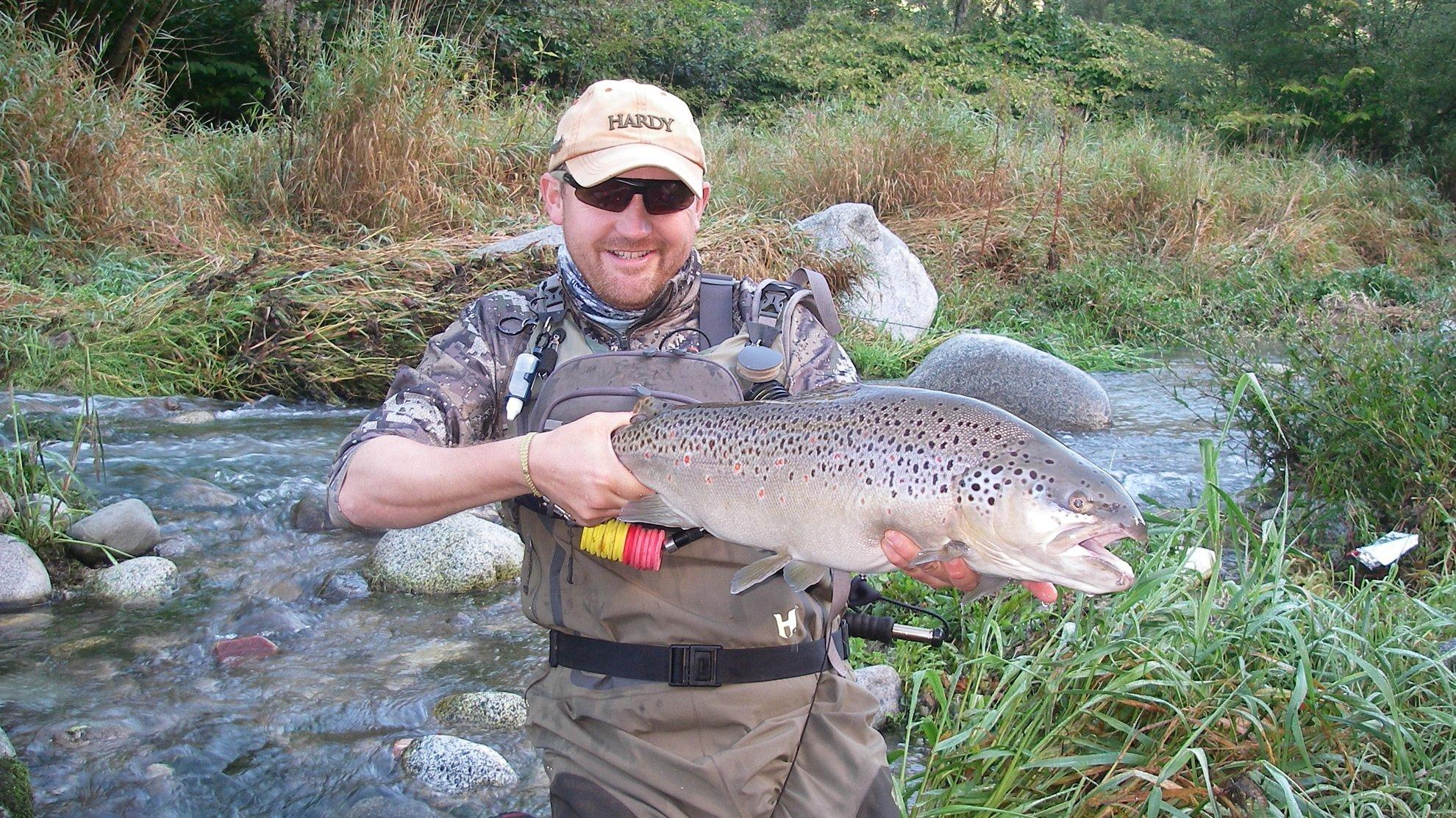 Session 3 on Day 2 saw me drawn on the lake. The water was gin clear and you could target cruising trout and char – but they had seen just about every fly imaginable. I opted for 2 tiny size 16 Stripped quill buzzers on a floater and soon landed a fin perfect, hard fighting resident rainbow trout of 44cms. I then proceeded to lose a fish estimated at over 8lbs on a small wet fly on a DI3 line, before fishing tiny dries and missing two takes. Then I tried a large grasshopper dry fly with a small buzzer below it and hit on the "method" for the rest of the session. 3 more rainbows followed and a lost char to win the Session, so a 1st place on the lake. Much happier now!
The final day dawned and saw me on the Genova Sector where the water always ran blue/grey and the fishing was hard. I managed 5 fish and lost one to finish 8th but found out the last 2 competitors had also only taken 5 apiece, so from a hard beat this wasn't such a bad result.
Then my final session saw me at Pinzola and my controller told me the beat was not a good one. A Czech had caught 5 on the 1st session, with a Polish angler taking 3 on the next. Third session saw an Italian catch 3, but that morning a Norwegian had blanked. It wasn't looking good – again! I fished for 3 hours on my knees in the crystal clear water and landed 1 measurable fish to get a 9th place.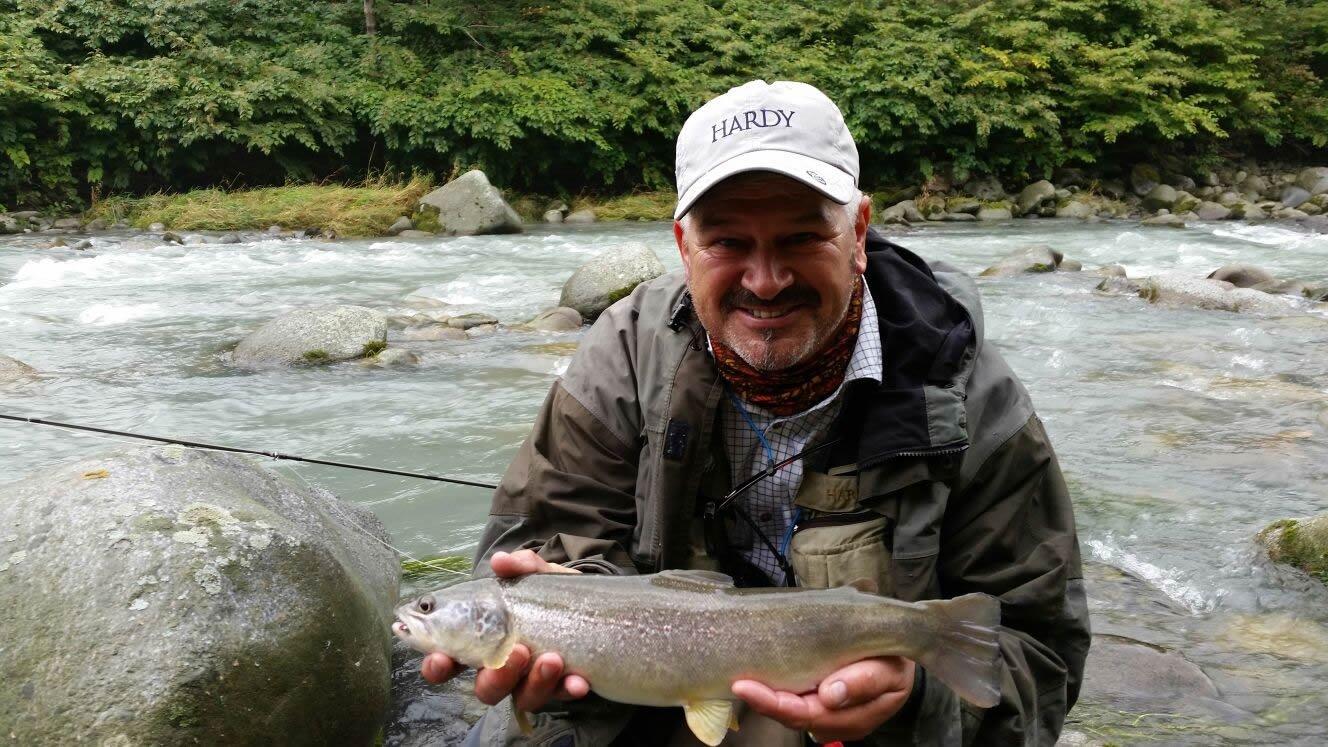 Not my best championship, but as is always the case, you have to catch whatever fish are in front of you from your peg. I know my pegs were not good, but in the greater scheme of things it usually balances itself out over the team. We finished in a disappointing 7th place immediately behind the host Nation Italy.
Congratulations to Czech republic for winning the Event, to France who were 2nd and Poland 3rd. Well done also to Howard Croston for being the top English rod.